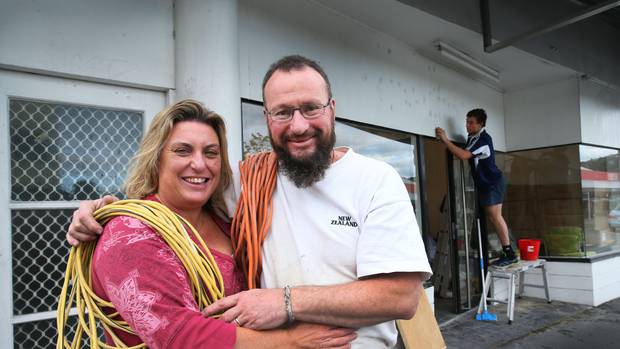 Chris and John Sapwell didn't expect to buy a former brothel when they looked for somewhere in Whangārei to house their new health therapy centre, Mind, Body and Salt.
It has been their dream for more than a year to set up Northland's first "halogenerator", a special type of equipment that is used to grind the Pharmaceutical grade salt into a fine powder which is then dispersed into the air in the form of microscopic salt particles and at precise concentration levels which is then breathed in by clients. Read this Herald article…
More on Christine…
Chris is a Registered Nurse with over 30 years health experience. She is a mum to two beautiful sons both now away from home and thriving. She grew up, was educated and trained in Northland and has worked in many different health environments including management, industry, child health and general practice.
Among her qualifications, Chris holds a Master's Degree in Health Sciences from Otago University and addition to managing Mind, Body & Salt is a lecturer on the Nursing Degree programme at North Tec. Chris teaches primary health care and population health and has a special interest in child health and the health of her wider community.
Having experienced a lifetime of asthma, eczema and allergies Chris has sought treatment options through a wide variety of channels, finally discovering Salt Therapy in 2018 following a bout of pneumonia which left her with a problematic cough. Salt Therapy has brought a wonderful and exciting new dimension to how she manages these conditions for herself and wanted to share this discovery with her community.
More on John…
John is Dad to those two gorgeous young men too. He was born in Dunedin and then moved to the North aged 10. He was brought up in Onerahi by his mother who was a nurse and midwife, trained in Scotland and his father, a mechanic from the South of London. John has been immersed in health and wellness from an early age and has always been open to therapy options in particular the acknowledgement of the wairua (spiritual) aspect of health.
John holds a Degree in Computer Science and Business from London and keeps excellent health since the insertion of his pacemaker or affectionately his 'battery pack' last year. The opportunity to share Salt Therapy with the community was taken up with enthusiasm when he noted the positive health affects for Chris and went about reading and researching the topic.
Our Values (Whanonga pono)
These values are the Directors own personal values that we wish to extend in our business dealings both within our team, clients and wider business community.  Our expectations are that the team will acknowledge their own personal values but also those of Mind, Body & Salt.
Whanau – acknowledging the essence of family and the importance of whanau and friends to our own health and sense of wellbeing
Tika – to do the right thing and doing it when not being observed, being courageous, acting with integrity and honesty, seeking to be fair and just and advocating for those with need.
Aroha – to act with good intent, to be compassionate, sympathetic and benevolent. To follow one's heart to the right decision. 
Hauora – being well, an absence of disease or sense of illness. Holistic wellness incorporating not just the physical or Taha tinana whereby our physical bodies are not the only measure of health but is fundamentally linked to other health dimensions. For example Taha hinengaro or mental health, acknowledges that our thoughts and feelings contribute to our sense of wellness. Taha wairua or spiritual wellbeing recognises the significance of our spiritual essence and how this impacts on our life force. Taha whanau or an understanding that whanau or connections to people contribute to our sense of health and wellbeing.
Ora – life, vitality and health, to be healed or to be in a state of wellness.
Our Nana
Our Nana used to swear by the benefits of salt – treating sore throats and minor wounds or just to breathe in the salt air was good for the soul. Nana was a believer in the benefits of salt – the sea or the sea air could cure nearly anything that troubled us and she was usually right – her natural, pragmatic approach invariably worked or at least it helped.  Nana lived by the sea her whole life and believed in a natural approach to health and wellness and that a salt environment supported well being.
People who frequent salt rooms and those who seek alternatives to a growing reliance on antibiotics and a move away from what nature provides probably would agree with Nana. The remedies used by Nana were what is referred to as wet salt therapies and can be found in saline nasal rinses, throat gargles, contact lens solutions etc.  Even swimming in the ocean could be considered wet salt therapy.