Our Whangarei salt therapy room uses state of the art equipment and pharmaceutical grade salt.
Our Salt
We use only Pharmaceutical grade Sodium Chloride produced from the great Southern Oceans utilising natural resources in a process that is sustainable and environmentally friendly. Pharmaceutical grade Sodium Chloride is manufactured for applications requiring a high purity API (Active Pharmaceutical Ingredient) and is produced on a dedicated GMP certified production line.
Our Halogenerator
We use a PRIZSALT+ dry salt aerosol generator to crush and grind the salt into microscopic particles and then disperse it throughout the salt room. More about Prizma…
Our Air Conditioning
The ClimatecNZ Air conditioning is a specifically designed air conditioning system, ensuring infection control is managed through continual clean air flow and complete air exchange after each session.
Our Salt Room
The Salt Room seats 8 in our comfortable reclining chairs and you will find gentle music and low lighting to aid relaxation and creation of a peaceful environment in which you need just relax and breathe in the salt-infused air.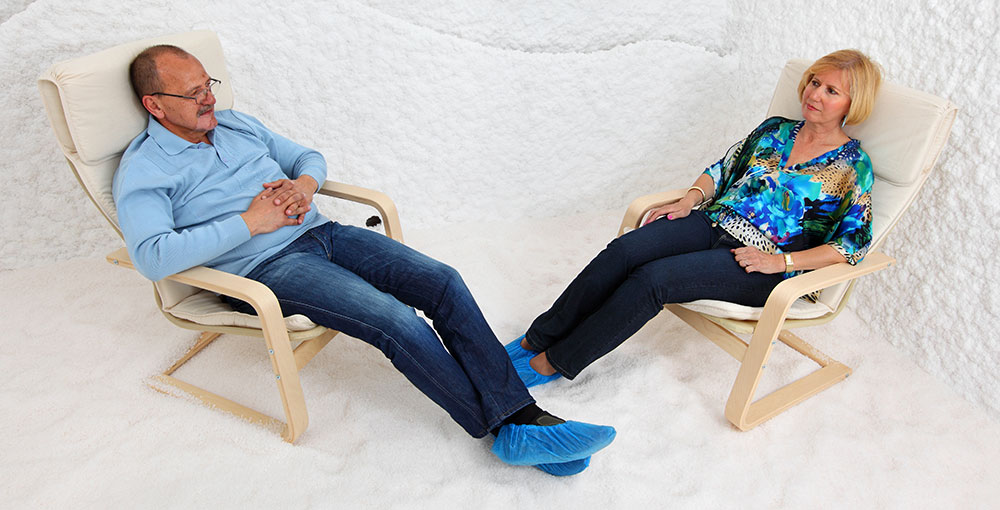 Each session lasts 40 minutes and is dependent upon your age and health condition. Our halogenerator is able to be configured for different health conditions and the amount of salt dispersed can be altered based on health needs, for example lower amounts for children. The Salt Room is a warm 23 degrees C, the environment is dry with a state of the art air conditioning system keeping the room temperature constant and air continually clean and refreshed.
Salt Therapy Plans
Speak to our team about individual salt therapy plans based on your own health needs for optimum results. See research articles or ask our team for more information.
Clothing
Prior to entering the salt room you will be required to remove your shoes only. You can remain in your normal clothes or if you wish more salt exposure to your skin feel free to change into appropriate clothing.
The Experience
The experience of salt therapy is relaxing and therapeutic for almost everyone.
Your first appointment will require you to sign a consent form and give us some background to your health to enable us to give you a therapeutic salt dose and therapy plan. This information remains confidential as per the Privacy Act 1993.
The Salt Room is technology free so please be prepared to relax with a book or magazine or just enjoy shutting your eyes and breathing freely and deeply.
It is not possible to accommodate food or drink in the Salt Room, you are encouraged to drink before and after the session. Complimentary Oku herbal tea and water are available in our reception area.
Meditation, yoga and mindfulness are reported to have increased therapeutic effect in this environment and you are welcome to make use of the space in a way that promotes your own wellbeing.
You need to remain in the room for the duration of the session to avoid losing any of the salt circulation and therapeutic benefits and minimise disruption to fellow salt room users.